In most cases the answer is still, yes. But the ultimate decision is more than just lowering your monthly mortgage payment. There are other factors you might want to consider in order to see if it's still right for you.
You have probably heard for the last 15 months or so that interest rates have been lower in order to stimulate the economy during and post the pandemic. And lowered interest rates trigger the demand for refinancing mainly because they are changing all the time by the government [specifically the Federal Open Market Committee (FOMC)], so it's no wonder that nationwide

refinance activity reached close to record highs last year.
Why refinance at all?
To get a lower interest rate

To shorten the term of their mortgage

To change from an adjustable-rate mortgage (ARM) to a fixed-rate mortgage, or vice versa

To use home equity (ie for a financial emergency, finance a large purchase, or consolidate debt)
"On average, borrowers who refinanced their first lien mortgage in the 4th quarter of 2020 lowered their rate by more than 1.25 percentage points, the largest reduction since the second quarter of 2015," Freddie Mac concluded.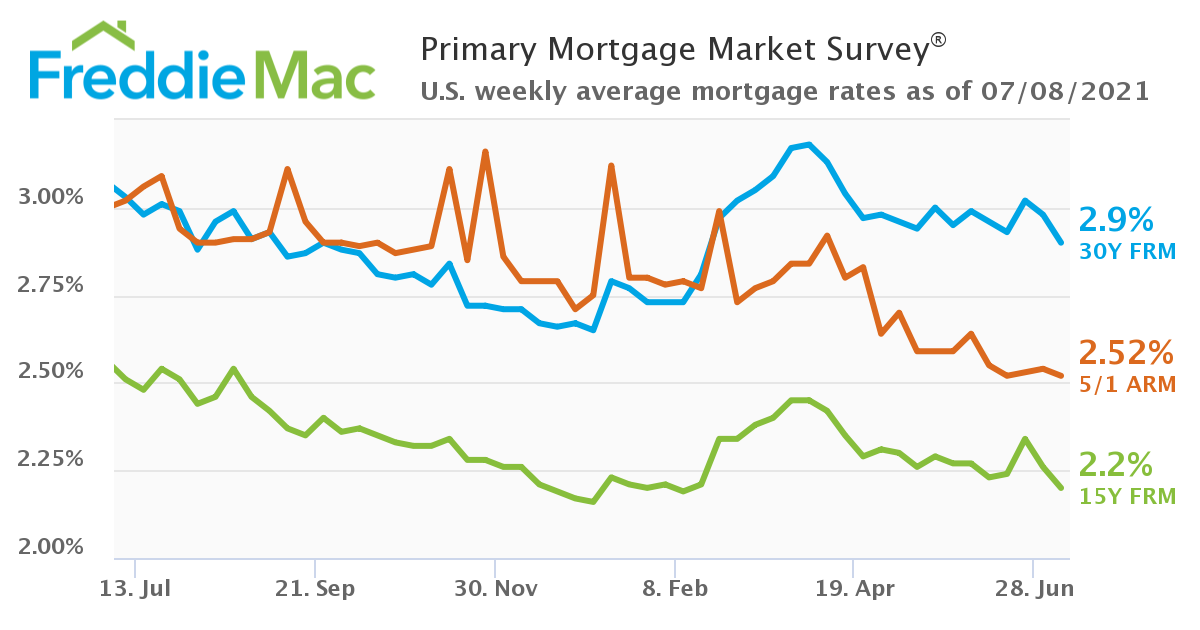 We expect economic growth to gradually drive interest rates higher, but homebuyers and refinance borrowers still have an opportunity to take advantage of 30-year rates that are expected to continue to hover around three percent. --Freddie Mac, 07/08/21
When to refinance? Here are questions to ask yourself to determine if refinancing is still right for you:
Can you afford the closing costs?

Closing costs are typically 2-6% of the loan's

principal

and you typically pay upfront out-of-pocket, pay a higher interest rate, or sometimes roll in the costs to your monthly payment with interest.

Similar

to when you bought the home, closing costs will have appraisal, title search, and administrative fees.

How long have you been paying the loan? '

Interest payments are front-loaded, so the longer you've been paying your mortgage, the more of each payment goes toward the principal instead of interest.

How much could I save monthly by refinancing?

If you can reduce your interest rate by 1-2% there's an incentive to refinance.

My favorite online recourse for

calculating

savings is offered by Nerd Wallet

How much longer will you plan to live in your house?

Will the savings be worth the 2-5% in closing costs? This is called the break even point. For instance, it would take 30 (2 1/2 years) months to break even on $3,000 in closing costs if your monthly payment drops by $100. However, if you think you think that you might move during that time, you'll lose money in a refinance.

Calculate it for yourself:

Closing Costs ÷ Monthly Savings = Break-Even Period

Or ask your lender to run the numbers for you.
What's changed from your last loan closing?

Has your credit score, annual income, and/or payment history improved since you got your mortgage? If you have had some significant improvements to any of these areas, you might be eligible for more loan types and lower rates.
Refinancing can be a great financial move if it reduces your mortgage payment, shortens the term of your loan, or helps you build equity more quickly. However, before you refinance, take a careful look at your financial situation and determine if it's really the best route for your situation. I suggest you talk through your exact options and goals with your current lender. But just like with buying a new home, you need to shop around to at least 3 lenders to compare their rates and fees.

If you need assistance getting connected with additional mortgage lenders, let me know and I can help! I have some amazing trusted local lenders I can recommend.