If you've been thinking about buying a home, one of the questions you are likely asking yourself is this: "Is now the right time, or should I wait?"
You might be wondering if the market is "too hot" to get the house you want right now with all the bidding wars or maybe you've thought it would be better to save more cash on hand.
However, based on recent Freddie Mac home price and mortgage rate projections, however, waiting to buy a home could possibly cost you more than waiting.
As of August 2021, it's still very much a seller's market throughout the country where there is a lot of buyer competition for the homes that are available. And in our Raleigh/Durham market, some buyers are offering above asking price to even be given a chance by the seller. However, if you are in the market for a new home, even if it seems intimidating at first, jumping in now will likely save you money in the long run vs. waiting.
There are three critical ideas to keep in mind before deciding whether to buy now or delay your home purchase for a year or more.
1. Whether mortgage rates will be higher

2. Whether home values will be higher
3. Whether the amount of money you can save by not renting
1. Interest rates are still low
In 1981, the mortgage rate was 18%—and just twenty years ago it was around 7%.
So between the 80s and now, to buy a $300,000 house, you'd be saving $45,000 and that's not even taking inflation into account!The longer the wait, the more you'll pay, especially when mortgage rates and home prices rise.
Even the slightest change in the mortgage rate can have a big impact on your buying power no matter your price point.
Based on Freddie Mac Projections
Let's break down this chart above, so you can make the best decision.
Say you need to take out a $500,000 loan to buy a new home today. With home prices on the rise, that same home could require a $560,000 loan by next year and an almost $600,000 loan the year after that (according to Freddie Mac projections).
When you add in their projections that mortgage rates will only rise from their current historic lows, you can start to get the picture of how waiting will cost you.
Home prices are going up
According to the Home Price Expectations Survey , by Pulseonmics, which collects survey results from hundreds of economists, real estate experts, investment and market strategists, home prices will continue to rise over the next five years. This is great news for existing homeowners and soon to be homeowners as they benefit from increased home equity.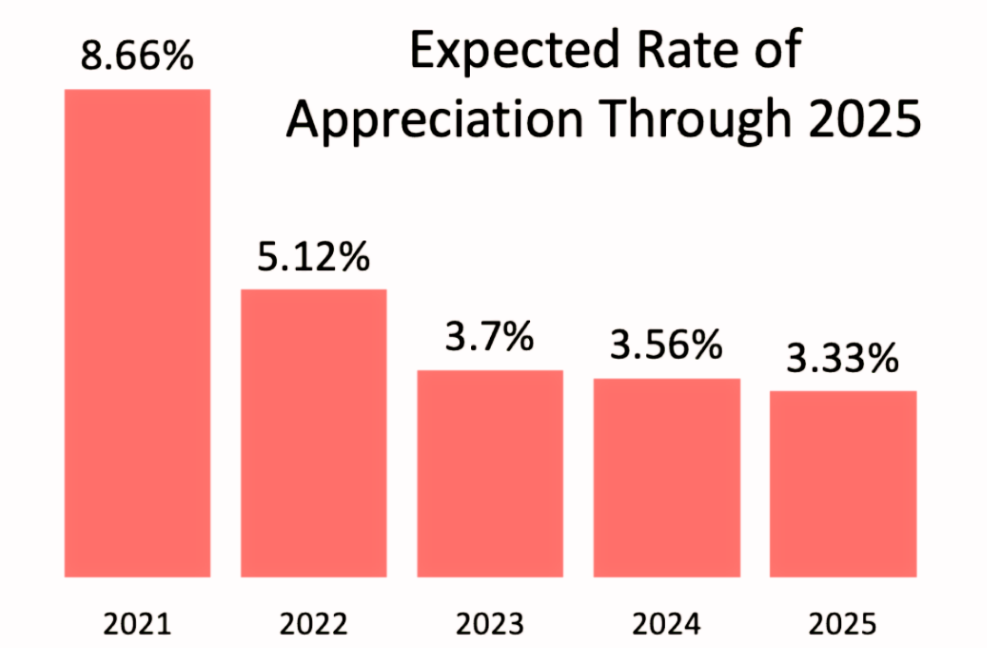 You're paying your future self rent
A stark contrast from renting, where you are building your landlord's wealth, owning your own home is building your wealth and your future self will thank you. Plus, forget the yearly rent increase, your monthly principal and interest are locked in, plus you benefit from appreciation.
"Homeownership is the cornerstone of the American Dream and the best way to build generational wealth. --Marcia L. Fudge, Secretary of Housing and Urban Development
Of course, there are other you might want factors to consider...
Factors like your desired our location in the Triangle, your current income, cash on hand, and your credit score, all will have an impact on whether you want to wait or not.
Unfortunately, there is no one cookie-cutter decision that works for everyone. Maybe if just switched to a contract employee and more time tax history, or maybe you want more time save for more down payment or possibly your credit score could use some boosting, waiting could be right for you.
The general idea to keep in mind is that waiting isn't always the right answer financially for everyone, even if the market cools and even if you could save more by waiting.
Ultimately, the best time to buy a home is when the timing makes sense for your life.
If you are trying to decide when is the right time, I'd love to help you with that decision.
I'll provide you all the information I have, listen to what you want to accomplish, and help you come up with a plan that we'll execute together when you decide the time is right.
And, no, my answer is not always buy now. My recommendations to each client differ based on that particular client's financial situation and life plans.
Let's chat! Email me at abigail@livingraleighdurham.com. I can't wait to hear from you!