Given the past year of bidding wars and prices soaring, many potential buyers and sellers are wondering what the home prices will be like in 2022. Will they be keep rising, level out, or even go down? Should I sell now or continue to wait? Or should I buy now or should I keep waiting? So while we begin to make holiday plans, let's also jump into the future.

If you or anyone you know have been thinking of buying or selling a home, you are probably wondering what home prices will look like next year. If prices are going to increase, buying now and then waiting to sell your existing makes sense. But, if prices are going to decrease, selling now and waiting to buy is more logical.
So what's best then?
As I always say, the best time to buy or sell a home is when YOU want to move, however, if you have flexibility, getting educated on which direction prices are headed is a wise starting point.
So, let's explore some different home price projections for 2022.
Every Q4, the major housing industry entities, CoreLogic, Freddie Mac, Fannie Mae, and the Mortgage Bankers Association, release their individual projections for the rise and fall of home prices for the next year. But rather than us just looking at one projection, we'll examine everyones in order to best predict the future.
Here are their 2022 Home Price Predictions: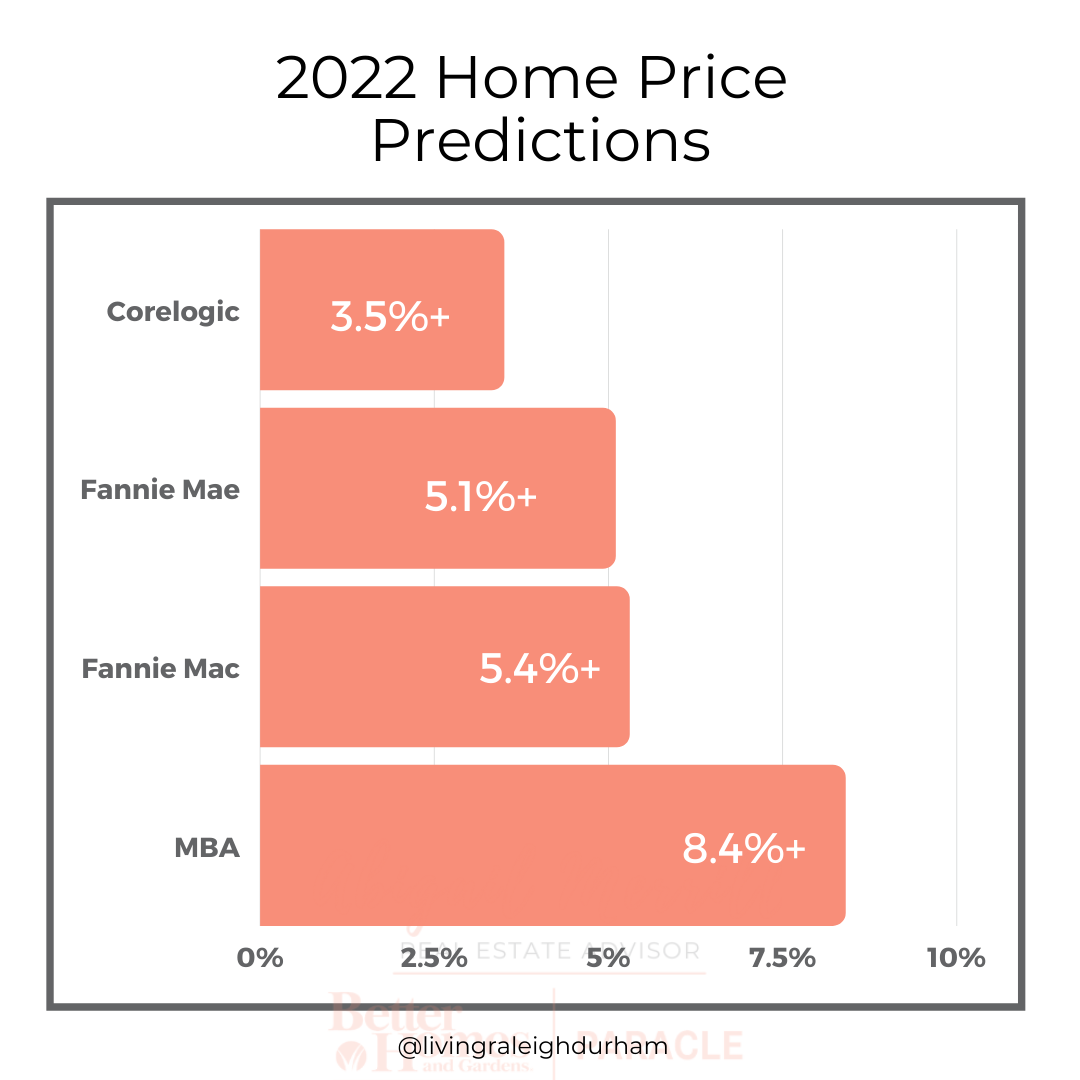 CoreLogic - 3.5% projected price increase
Fannie Mae- 5.1% projected price increase
Freddie Mac - 5.3% projected price increase
Mortgage Bankers Association (MBA)- 8.4% projected price increase.
As you can see, although all industry entities offer slightly different exact percentages, .all still project continued price appreciation in the housing industry nationwide in 2022.

Even if we are conservative and average all four of these projections together, we still get a 5.58% appreciation increase in 2022. This is very close to the average projected price increase, 5.6%, found by Reuters in a survey of 40 housing analysts.
All experts seem to agree that 2022 home prices will go up by around five and a half percent next year.
But what do these projections really mean?
It means that 2022 home prices will likely continue to appreciate at a healthy rate, but not as dramatically as they did over the past year. In the Raleigh Durham market (aka. The Triangle), as September 2021, the average sales price increased 17% year over year.
So it's understandable that at first glance, you might see this 5.58% as a "market drop," but rest assured that this is still a significant amount when you think about pricing for homes in our area. According to the average projection of 5.58%, if a home is selling for $500,000, that same home will be worth $527,900 by next Halloween. That's a difference of almost $30,000 in just one calendar year.
That's a lot of money!
What do these projections mean for home sellers?
As someone with a home to sell, these kinds of projections might make you wonder whether it's worth holding off on selling and take advantage of the price appreciation next year. Of course, it's not guaranteed that your specific home will be worth more a year from now, as many factors go into how much a buyer is willing to spend on a house and projections, of course are not guaranteed. Even if the general market trend is higher prices like these forecasts suggest, you might still be able to get more for your house today than you would by waiting. I'd have to take a look at your home, where it's located, who your most likely buyer is, and give you my best guess based on what's happening in the market in your specific situation.
Regardless of what the projections say, the best time for you to sell your home is when you're ready to do so. Ideally, we time it when it can get the most buyers possible, such as avoiding the holidays if you can, but with such low inventory, you're home would stand out to the buyers that do have a first of the year to move deadline.
The best thing to do is reach out to me now and schedule a time to talk. I'll walk you through in more detail what's happening in our market now and how to position your home properly for the best possible outcome for you and your timeline. We can talk about your life plans, personal financial situation, and how these projections may affect the sale of your current home.
What do these projections mean for home buyers?
As a buyer, these potential price increases next year likely make you feel you need to buy sooner than later. However, these projections are just that, projections. Even experts cannot see into the future and guarantee what home prices will be. If only we had a crystal ball!
The expert provided projections are useful for getting an idea of what home prices prices might look like next year, but they aren't the only things you should consider when deciding when is the right time to buy a new home. There's so many more factors to consider--motivation to move; current and prospective employment schedule, life changes, and more!
As soon as you start thinking about buying or selling a home, feel free to reach out to me. It's never too early to examine everything and start coming up with a real estate plan that works on your timeline. And, don't worry, I'm not pushy agent. We move forward with buying or selling before you say "I'm ready!" All I want to do is help you get prepared, so when the time is right everything goes perfectly.
Call me at 919-638-6399 or email me at abigail@livingraleighdurham.com when you'd like to discuss your future home plans. I'm looking forward to hearing from you!