Not just in the Raleigh Durham area, but nationwide the 2021 housing market has been red hot this year, reaching record levels where sellers have been in the drivers seat. But what about the historically slow period during Thanksgiving through January?
Here's what you need to know about the current state of the housing market as we move into the holiday season and I offer home seller strategies especially if you or anyone you know has been thinking of selling now.
What should sellers expect this holiday season?
Good news! Even as the holiday season approaches, there are plenty of buyers out there still looking for homes.
There is still historically low home inventory in our market, 38.5 percent less homes are available than a balanced market (as of October 2021) in the Triangle area to be exact, but home buyers are still looking to lock in their dream home before prices and mortgage rates rise even more next year, 2022.
Serious buyers are competing for the few nice ones and getting creative and flexible with offer terms. Most are offering high due diligence amounts (this goes directly into the seller's pockets regardless of whether the buyer gets to the closing table or not), offering over the asking price and/or meeting your requirements for rent back – all of which are great news for you, the seller!
JUST THINK: If your home is one of the few beautifully shown and well-priced homes on the market, it will rise to the top of the buyers favorite list and make it all worth it for you!

Further proven by the latest data from the National Association of Realtors (NAR), the average seller received nearly 4 offers (3.7) offers on their house in October. Plus in our Triangle market, as of October 2021, sellers are receiving on 103% of their asking price.
Both of these numbers are significant because it means you'll likely have multiple offers over asking price to pick from if you sell your house this season.
So things are not slowing down?
Well, yes and no. If you've lived in the US awhile now, there's a natural slowing down of most things during the holidays/end of the year/winter months, because it's cold, people are focused on other priorities, and school is in full swing. However, since there's low inventory, and while there's still a ton of buyers out there wanting to take advantage of the still lower interest rates, only the truly serious buyers are still actively touring and making offers.
So not only would your home be on the top of their short list, but you would be receiving offers from the most qualified, eager candidates.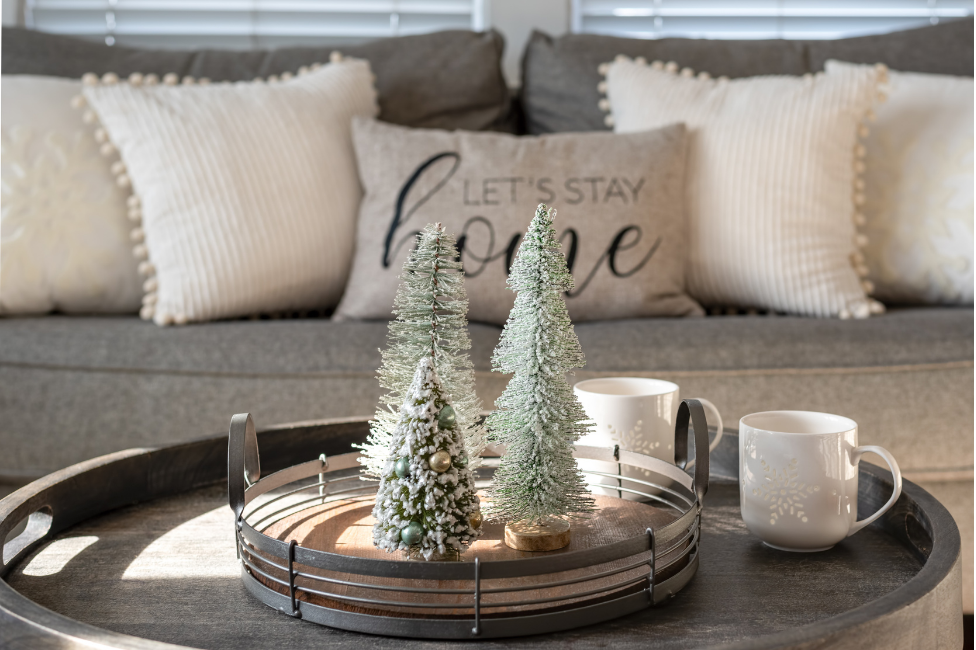 Strategies for Selling This Holiday Season
1. Get Your Home Looking Its Best
If you want to attract the most buyers and sell your home quickly and for top dollar, you need to make it stand out and be as appealing as possible.
However, sprucing up your home for sale doesn't have to be a major financial or time investment, it can be as simple as the 3 D's:
depersonalizing
decluttering
deep cleaning
However, if you're looking for the most return on investment though, I recommend making the upgrades that will lead to a sales price and quicker sale.
Since every home is unique, so if you're curious on what that would look like for you, I'm happy to do a walk-through to tell you what needs to be done to have buyers feeling like your home is "the one" they can't pass up.
Holiday FAQ: Folks ask me about whether they can keep up their holiday decor for listing photos or not.
And yes, of course! Whatever you celebrate this holiday season is great to be showcased because it shows the home is loved. As long as it meets the standards of the above 3 D's, you can certainly keeps things festive and fun!
FUN FACT: On top of selling preparation and design consultations for any of your home projects, I also offer complementary home staging for my listings. So if you wanted to buy your new home first, get settled into it, and then sell your current home, I'd make sure it still shown for photos!
2. Price Your Home Strategically
Whether during the holiday season or peak spring, pricing your home strategically takes a ton of expertise and special consideration to your unique home.
You must strike this delicate balance of not pricing too high out of the gate that it scares buyers away. In our current market, homes that sit for more 7 days is a bit of red flag and after 10, price reductions are common.
And with all the above asking offers, sellers want to set sales price high from the get go, but that's the wrong approach.
But you also don't want to price too low, because it can really backfire. If you're priced too low, there's a bit of an desperation and second thought that there's something wrong with your home. So you end up not getting what your home is worth.
Home pricing is an art and science or maybe like the Goldilocks effect. We should price it with the balanced intention to attract the most interest and the let the market (buyers' interest) drive up the home price.
In Conclusion
Selling a home during the holiday season can seem like a tall order with everything else happing in your schedule; seriously qualified buyers are still buying beautifully shown and priced homes quickly and for top dollar.
I'd love to help you or anyone you know to get the very most for their home, no matter the season, so reach out today!
Video Summary: https://www.youtube.com/watch?v=3tyVH4D3yTE