Top Holiday Safety Tips for You and Your Home
It's that time of year when the "hustle and bustle" of the holidays begins in full force. You may feel like your to-do lists for decorating, shopping, and baking will never end!
But homeowners should be aware of and be prepared for any unique hazards that tend to come up at this time of year.
This helpful guide, I'll show you how to keep your holiday from being "bah-humbug" to more "deck the halls" with these holiday-specific safety tips!
Roasting Chestnuts Over an Open Fire...
Place a screen around your fireplace to prevent sparks from shooting across the room
Although tempting, never ever burn wrapping paper; this will result in a flash fire
Before your first seasonal use, I suggest hiring a professional to clean your fireplace and make it's ready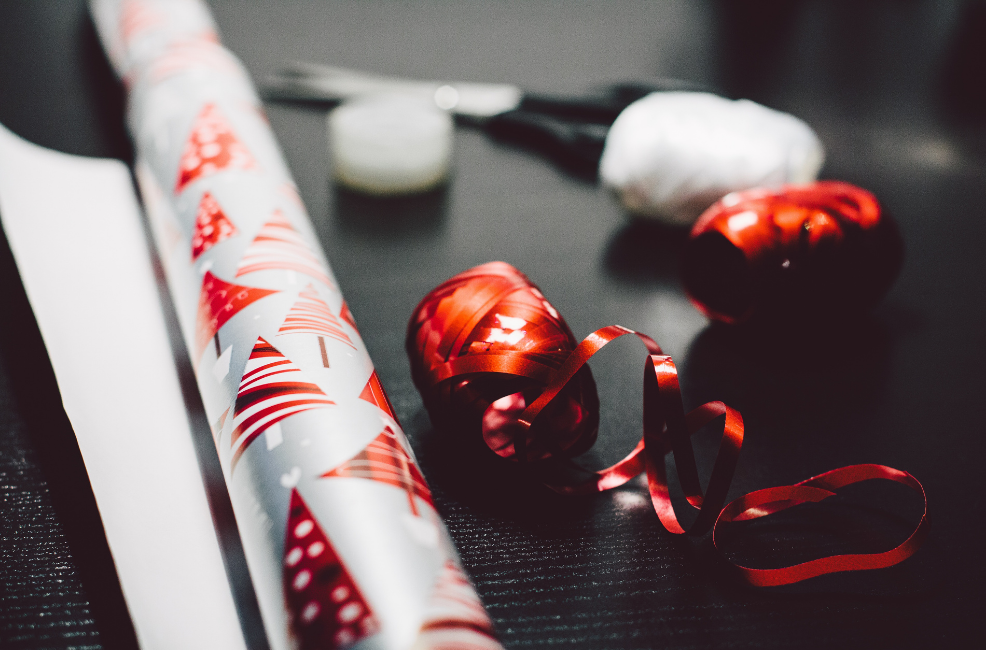 Make Smoky Proud
Test and check your batteries in all smoke and CO detectors.

The rule of thumb is replace the smoke detectors completely after 10 years.
Purchase a fire extinguisher and mount it centrally in your home--like in the kitchen pantry.

Make sure you know how to use it too!
Never leave a space heater unattended

Better still, buy one that has an automatic shuts off!
Create a fire escape plan for your family (and any guests)
Oh Christmas Tree!
Artificial Christmas trees should be labeled "fire resistant."

Although these could still catch on fire, it will be more resistant to burning and spreading
If real trees are for you, check to make sure the tree is fresh, with green needles that don't break easily; plus the trunk should have a sticky resin on the bottom.

Pro tip: Look for a tree that when you tap the tree on the ground, the needles don't fall off.
Plus to make your tree last longer, cut two inches off the trunk and put it in water when you bring it home
Help prolong the life and reduce the fire hazard of your live tree by keeping the stand filled with water and replenishing daily.

Don't forget or have someone else do it for you if you go away!
Once your tree starts to look dry and needles are dropping, toss it. It's not worth the risk!
Make sure your tree is securely anchored and won't tip over, especially around small children and pets.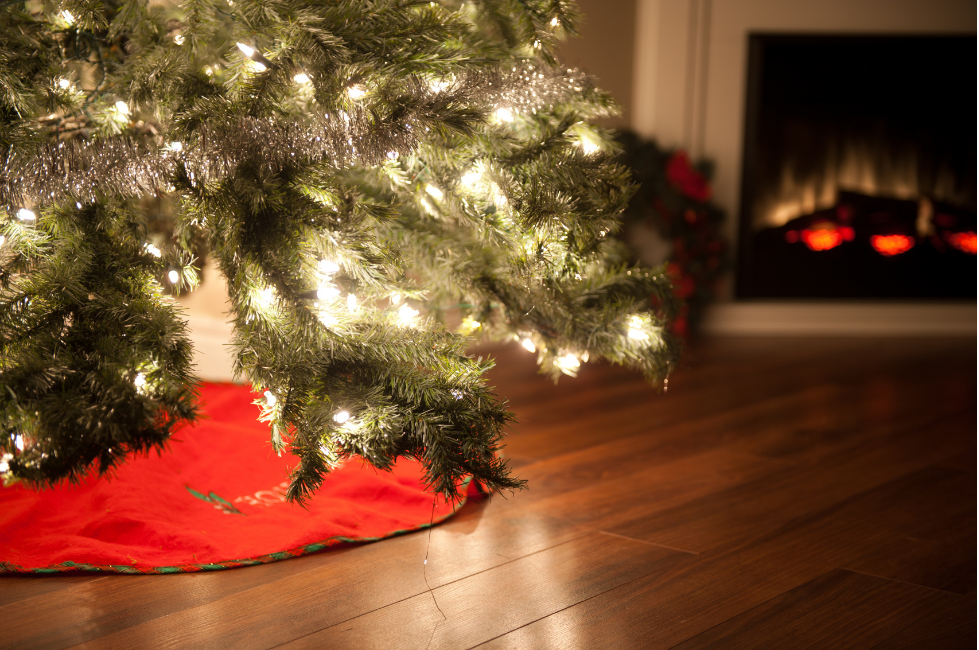 Lighten Up!
Buy LED lights since they don't produce as much heat and use less electrical current

If not LED, use only lights with the UL seal of approval

For outside decor, make sure the lights are rated for outdoor-use.

Inspect your lights -- new or old -- for frayed or bare wires, broken or cracked sockets, loose plugs, and excessive kinking.

Throw out damaged sets and replace burned-out bulbs.

When replacing bulbs, unplug the light string and be sure to match voltage and wattage to the original bulb.
Plug lights into a surge protector rather than straight into an electrical socket to avoid any electrical hazards if the lights short out or if there's a power surge.

To prevent overheating, plug in no more than one extension cord per socket and string no more than three sets of traditional lights together.
Note: when using an extension cord, make sure it is rated for its intended use and not a tripping hazard.
Outdoor lights should be plugged into circuits protected by ground fault circuit interrupters (GFCIs) to protect against electric shock.

This device cuts off the current if a leak is detected; without one, a damaged wire can transfer electricity into water or metal, making it "live" and dangerous.
Turn off all holiday lights when you go to bed or leave the house.
Consider buying a timer for Christmas lights that automatically turns them off at set times.
Arose Such a Clatter
Keep burning candles in sight, or choose battery-operated or solar-powered ones especially around kids and pets

There are so many products with better and safer "flames" out there to choose from
Use non-combustible, flame-resistant materials for your decorations.

Remember those adorable vintage glass family ornaments could pose a danger by over heating or shattering
Perhaps put them in a bowl or scattered as table decorations rather on a lit tree
Hang all glass and breakable ornaments near the top or middle of the tree to avoid little hands or paws

Or just avoid them all together until everyone is a little older!
Instead of metal hooks consider using ribbon to tie ornaments on branches
When hanging decorations high up on trees or stringing lights on your home, make sure you use the correct ladder height and you've got someone to help you hold the ladder.
Mistletoe, poinsettias, and holly plants are cute for decor and to initiate welcome kisses, but also poisonous to pets and children if ingested. So place them up high or outside.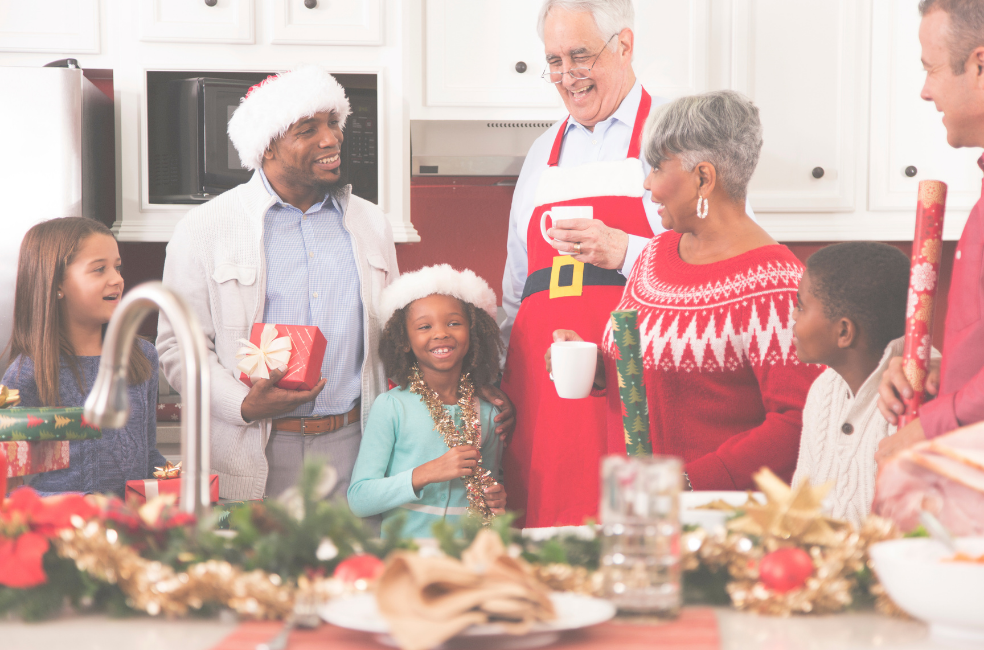 Welcoming Guests!
If you are having guests stay with your this year, think about these tips:
Lock up any medications and cleaners to keep children of visitors safe.

Plus: just do a walk-through of your home for any hidden hazards for young guests as well!

Make sure area rugs have a non-skid backing to avoid slips; and keep walkways clutter free to prevent trips, especially for elderly visitors
Add a hall nightlights to help overnight guests find their way to the bathroom or kitchen for a late night snack!
To prevent wintery weather-related slips and falls, clear walkways and doorsteps as soon as possible to prevent ice formation;

Stock up on rock salt or gravel and use generously
Remember to get pet-friendly versions!
Thank you, Mr. Grinch!
If you expect to have packages delivered to your home while you're at work, have a plan in place to avoid having them left for hours on your stoop.

A great reason to get a Ring Doorbell or related! You can see footage of deliveries in real time on an app!

Check with neighbors who can watch out for deliveries as well; have them delivered to your work, or do in-store pick-up.
If you plan to go away for a few days – make your home looked lived in.

Think the Home Alone scene where Kevin pretends there's full on holiday party erupting!
Put lights on timers; put a hold on your mail; move expensive items away from front windows where they can be easily seen; and of course, always lock up!

If Santa brought you large expensive gifts, such as a big screen TV, cut up the boxes and put in trash bags before putting out on the street for trash pickup.

You don't need to let others know what goodies you got this year!
Now you're all set to enjoy a safe and happy holiday season … Merry, Merry, Everything!